Cosmonauts Oleg Novitskiy and Pyotr Dubrov of Roscosmos began the second of their planned spacewalks as they continued the outfitting of the Nauka module. They opened the hatch of the Poisk docking compartment airlock of the ISS at 1451 GMT on 9 September. Their mission objective was to complete the connection of the Ethernet cabling to the new module, attach additional handrails to the module's exterior, route cables, connect the TV systems and data lines and link-up the automated docking systems for future spacecraft missions. The cosmonauts also deployed two bio-risk containers as an experiment to gather data on better understanding the contaminants that could be a factor on interplanetary spacecraft.This was Russia's 50th planned spacewalk and the third EVA in total for cosmonauts Novitskiy and Dubrov. The EVA was concluded at 2216 GMT, after seven hours and 25 minutes.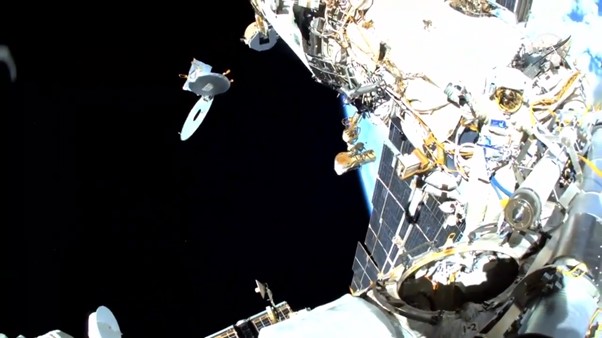 Cosmonauts jettison the ethernet cable reel cover before returning to the airlock hatch on the Poisk module. Courtesy: NASA TV.
Update by David Todd: There was a new addition to Nauka. At 1221 GMT on 28 September 2021, Soyuz MS-18 undocked from the ISS Rassvet module with cosmonauts Oleg Novitskiy and Pyotr Dubrov and NASA astronaut Mark Vande Hei aboard ready for a quick port relocation to the Nauka module. At 1335 GMT on 28 September 2021, Soyuz MS-18 redocked from the ISS. this time at Nauka module.