SpaceTrak is the industry's leading space research tool. This web-based launch and satellite analytical system is used by most of the important players in the space industry to provide the space research and information they need at the touch of a button. Serving all your Space Domain Awareness needs, SpaceTrak comprises of the SpaceTrak database and browser front-end software.
Since 1997 our experienced analysts have collated data from a variety of public and private sources to provide a one-stop-shop of key information that will enable you to analyse and forecast industry activity, trends, failure rates and market share. Ideal for insurance pricing, business planning, reliability and other varieties of space research.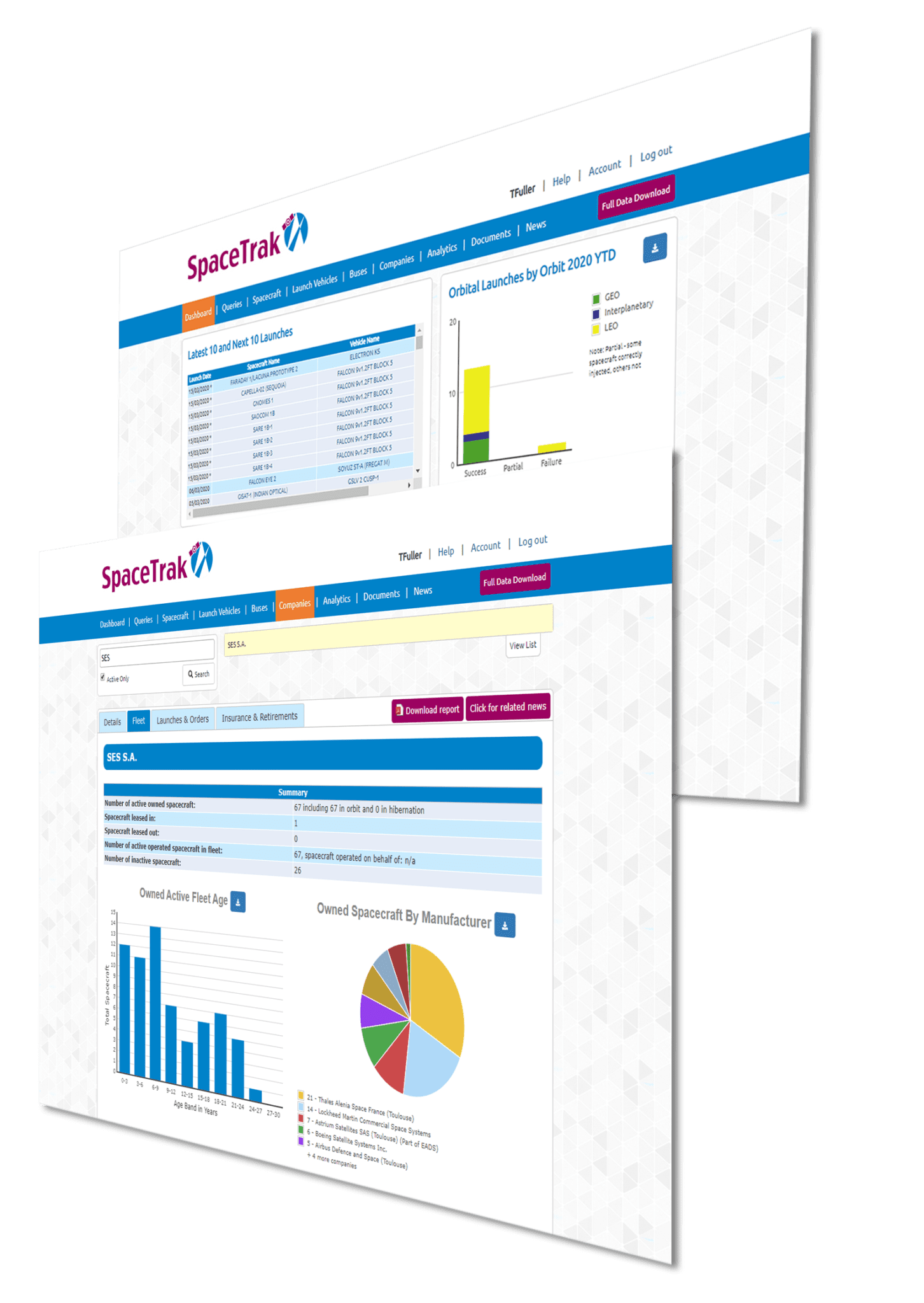 As a fully quotable resource, free from the information transfer restrictions set by national governments, SpaceTrak has become the space industry's most trusted satellite database and source of space research and information.
SpaceTrak
• Is easy to use: clients can use preset, modified or customised event queries
• Is updated with the latest events every working day
• Data can be easily extracted to spreadsheets
• Available as a 12-month subscription with discounts for extra users
Who can benefit:
• Aerospace manufacturers
• Launch providers
• Satellite operators
• Insurance companies
• Governments, space agencies and the Military
• Universities
• Space researchers and consultants
SpaceTrak provides:
Event histories and lifecycle for all spacecraft since Sputnik in 1957
All orbital launch attempts, successes and failures, plus relevant sub-orbital
Satellite mission, sector, orbit, age, status, anomalies and capacity lost
Satellite payloads, capacity and subsystem data
Future launches covering next ten years
Reliability and failure trends for launch vehicles and spacecraft buses
Insurance claims and loss values
Satellite construction and launch orders with contract values
Communication frequencies and links to ITU filings
Launch vehicle specifications
Company reports including financials
Online news and comments on the space industry
Detailed space market analysis